With an industry that's booming and no shortage of start-ups and employment applications - a lot of companies may wonder "what are the benefits of utilising contract resources?"
When it's time to grow your company and hire staff, you'll find that your entrant-level technology roles have hundreds of applications flying in.
Great! But there's a downside: full-time staff come with full-time responsibility.
The Hidden Costs of Hiring Staff
Not only does recruiting take a lot of time and money, but hiring employees has extra hidden costs that go way beyond simple wage packages. These include (but are definitely not limited to):
HR and Admin Management: Processing payrolls, shift scheduling, and maintenance of employee records are all essential parts of managing staff. Whether you have a Human Resources department or rely on software to do most of the work for you - additional wages or subscription costs should be factored into the overall cost of permanent employees.
Training: In a dynamic market, technology businesses are constantly needing to keep up-to-date with further advancements in R&D. If you have a Java Developer on contract, you may need to pay for further training in script languages that are rapidly gaining popularity, such as Ruby or C++.
Benefits: Depending on original negotiations, additional benefits can be a huge extra cost per employee. If you're an international company, you may find that covering healthcare insurance or paying legal contributing to pensions quickly doubles employee wage costs.
PAYE Accounting: Accountants are expensive, and requiring someone to manage PAYE should be considered into the overall cost of hiring an employee.
Employee National Insurance: Legal national insurance payments currently sit at 13.8% of an employees' wage - a hefty price to pay for a business looking to grow profits, not shrink them.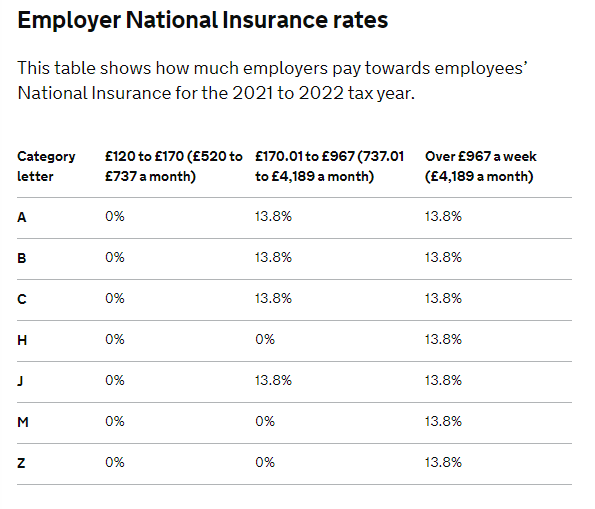 (Source: Gov UK)
If hiring staff wasn't unattractive already, there are also a lot more costs to consider. Expensive office rent, sick days, and holidays are just a few additional downsides to new staff members. Not to mention potential expensive recruiting processes. For a lot of businesses this takes hiring new employees completely out of the picture, but what are the alternatives?
Alternatives To Hiring Staff
With so many hidden costs associated with hiring staff, businesses with budgets need to look for alternatives. For tech companies, the options are:
IT Contractors
Freelancers
Unpaid Interns
Outsourcing
When it's time to grow your business by increasing your tech functions and service offerings, your best option is to look for niched IT Contractors experienced in your industry. Unpaid interns often require a lot of training and time, and outsourcing work will put quality control maintenance out of your hands - a risky venture for any business. IT Contractors are highly skilled workers able to hit the ground running, and with zero hidden costs they are a great, underutilized resource for business growth. The Benefits of Using IT Contractors For Business Growth
Benefit 1: Risk Mitigation with Low Long Term Commitment
As a business owner, you'll know that growth is all about taking risks. R&D research, marketing costs, and consumer testing can be incredibly expensive - and not guaranteed to work.
One thing you don't have to take risks on? Your employees.
Strong teams are steadfast and should be adaptive to your business growth. Contracting employees on short-term agreements is an easy risk-mitigation tactic that requires low commitment, allowing you to adapt your costs to changes in the market or your demand. Instead of taking on new employees for a venture that flops, contractors are a quick and easy solution to expanding departments. Plus, they require minimal training to be up to speed within your company, and are the perfect option for increasing service offerings without fear of failure.
Benefit 2: Simple Skill Shortage Solutions
Many skilled and experienced workers have become contractors because of the attractive rates, leaving individual companies to struggle to fill executive and leadership positions. However, employee management now comes with long salary negotiations to retain qualified staff members - an issue that can easily be avoided by hiring IT Contractors. Despite higher average day rates than employees ( where you can expect to pay between £50-£60 per hour), IT Contractors are still cost-efficient due to low "background admin" costs - allowing you to budget monthly and only pay them for what they've worked.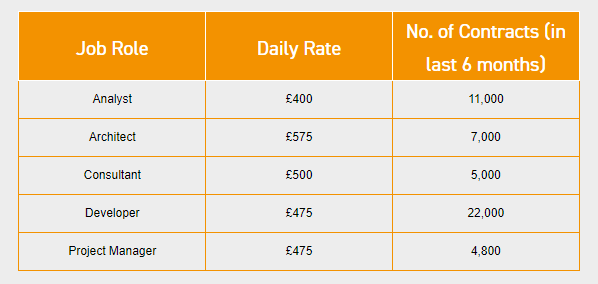 (Source: SJD Accountancy)
Similarly, hiring contract employees allows you to easily diversify your workforce and bring in uniquely qualified workers for upcoming projects. For example, instead of relying on existing skill sets within your company, when a client wants a large PHP website developed - you can respond by contracting a PHP developer. A simple solution to acquiring qualifications that take years to learn.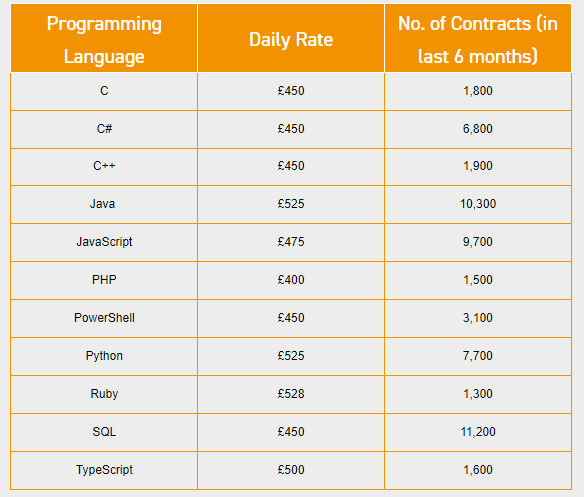 (Source: SJD Accountancy)
Benefit 3: Self-Motivated, Reputable, and Flexible
IT Contractors have a reputation to uphold.
It's believed that 40% of people exaggerate skills on their resumes (Source: Indeed), and require additional training when starting a job. With contract workers, you can trust in their experience and reliability as they have a business to maintain and a reputation to uphold.
Additionally, contractors are often highly self-motivated and able to commit to the scope of their work requirements. Wide-ranging experience allows contractors to be flexible and adapt to issues that arise. They've often worked with many different industries, and have become calm, capable workers willing to tackle any challenge - great for a business looking to grow.
Benefit 4: Qualified Expertise
As business owners, IT Contractors are responsible for increasing their own qualifications, keeping up-to-date with training and technology advancements, and broadening their skill sets and horizons. As a result, when it's time to "shop around" for the best fit for your business, you can find widely qualified, directly experienced workers that aren't on the market for full-time positions.
How To Find Suitable IT Contractors
As with recruiting, finding the right IT Contractor to suit your company is vital. With such a range of skills and qualifications out there, you don't need to settle on the first option and can narrow down your choices according to required specifications.
NuFuture is an IT & Tech recruitment specialist dedicated to finding the right talent for our clients. We're specialists in our market and our knowledge runs deep.
Connect with NuFuture today to find out how we can help you.
Call us on 01344 289224
Email info@nufuture.co.uk.
nufuture